Become an Owner Builder...And Save $$$
Granny Flats
The Easy Living Solution
A Granny flat provides you with an affordable yet comfortable home. Whether you're on your own, with a partner or just want that extra space, a granny flat gives you more… for less.
Follow the easy two-step process below to get your pre-built granny flat designed, approved and delivered.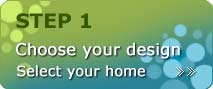 Click here to choose your granny flat design. These affordable granny flats are made from durable materials that will keep you comfortable and safe. Choose the design that fits your current property or land, like a glove.
Yournew home wil lbe a steel frame granny flat, a house that is supplied in kit form and installed by your preferred builder – ready to be made into a home-sweet-home. With no limitation to design options, you are free to choose one of the existing designs, or to design your own, comfortable home.


Click here to submit an enquiry. This link takes you to the company contact form, Here you can choose to send a an email enquiry or speak to someone direct.
Moving To A Simpler Approvals Process - Granny Flats are becoming more and more common in Australia. This is thanks to state governments and local councils changing the way they process granny flat building applications. For example in NSW as long as the application meets the minimum requirements and a check list can be met, then the granny flat can be approved within ten days by an accredited certifier or by council.
Queensland QLD
Western Australia WA
Tasmania TAS
Sydny NSW